Welcome To ATLANTA EXPRESS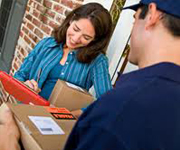 ATLANTA Express International Courier offers a unique service to send parcels to anywhere in the world from India. Apart from delivering regular documents, Parcels, we are the only International courier company specialized in India delivering Food Items ,Express Baggage, Excess Luggage, Garments and Fabrics, Household items, Industrial items, Express Package Delivery, etc to USA, UK, Singapore, Australia, Newzealand, Canada, Germany, Dubai, France and also to many countries across the globe.
We also work with international Courier companies such as DHL, UPS, Aramex, BOMBINO etc.We provide you Huge discounts due to our high volume, so you get the same services at a lowest price. We have all the required competence, to prepare your packages for shipments carefully so that you need not contact third party for packing services.
INTERNATIONAL COURIER SERVICE
We at ATLANTA Express World Wide International Couriers are prepared to take care of your valuable international Documents and Parcels/ Sample.We are the direct and indirect channel partners of all leading international Courier Companies like UPS, DHL,ARAMEX and our own International Network Services. Where your shipment will be forwarded on their Shippers/Airway Bill using any of them as per your desire on much offer rates.
Track Your Shipment
WHY ATLANTA EXPRESS